Need the Perfect Gift for the next Special Occasion?
Let customers speak for us
Words to Last a Lifetime
Decant your Favorite Spirit
Choose from our period inspired spirit decanters and personalize the backside too!
Customize Here!
If I Did Anything Right
Sometimes words are the most meaningful gift of all. Permanently engrave them in this beautiful, timeless decanter
Customize Here!
Aged to Perfection
This year their birthday is a milestone and you need to find a gift that is special. But what do you get the person who has everything?
Customize Here!
FOR THOSE WHO SERVE
Made in the U.S.A. for those who serve the U.S.A.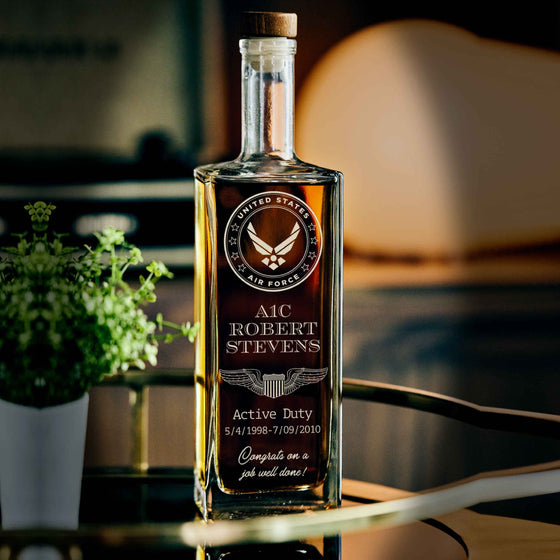 Honor our
Military Veterans
Create a unique gift with specific branches, ranks and insignia for a cherished heirloom
Shop the collection
Cocktail Decanters
They're back! Prebatch your favorite classic cocktails with fill lines on the back.
Shop Now
Our "Inebriated Intentions" Collection
Elevate the Home Bar with these Unique Gifts
Period Inspired Designs
Create a vintage vibe for your home bar. Robust, thick glass for lasting durability.
Our handmade products are designed, fabricated & packaged by our small team, then shipped directly to you.
Established in 2013, our tried & tested process of creating custom gifts results in happy customers. Our goal is to produce heirloom gifts with emotional attachment that last a lifetime.
How to personalize your own decanter You choose the design
Choose an art style and the bottle shape. Design the front with a spirit title or simply your sentiments.
You make it your own
Add a name & date, a loving sentiment or an inside joke. Whatever makes it special to you and yours. We'll make it perfect
View your choices in our preview app. Timothy will personally check each one to make it perfect.
The Bourbon Lover.
Celebrate their best bourbons with an etched display piece worthy of such a fine spirit.
The Ultimate Home Bar.
Elevate their home bar with a gift for their birthday, anniversary or any special occasion.
Newsletter
Join now and receive 10% off your next purchase!
The Daw Family
You know how they say when you order from a small business a real person does a happy dance? When you order a decanter from our website, no automated machine creates the custom design, Tim does! If you write us an email or a DM Tanessa is there to answer. She also runs all the social media, email newsletters, does the bookkeeping, does the laundry, cooks the dinner... (can you guess who is writing this?) And the kiddos help where they can, but mostly they need snacks.